Bill would require teaching cursive writing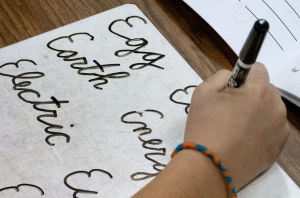 David Rolfe/Journal
A second-grade student at Jefferson Elementary School in Winston-Salem practices cursive handwriting.
Posted: Saturday, February 23, 2013 8:45 pm




Updated: 8:58 pm, Sat Feb 23, 2013.




Associated Press



In the age of texting, tweeting and other technological ways of communicating, North Carolina's elementary school students could soon have to master a more old-fashioned craft: writing in cursive.

A bill introduced in the state House this week would once again make cursive handwriting a part of the curriculum in state elementary schools.

The "Back to Basics" bill also would require elementary students to memorize multiplication tables, though state education officials say that's already part of the curriculum.

North Carolina's move to bring back cursive comes at a time when other states from California to Massachusetts also are trying to revive what's become a lost skill.

"Every child should know cursive," said state Rep. Pat Hurley, an Asheboro Republican and a primary sponsor of the bill. "Our children can't write a simple sentence. They think printing their name is their signature."

But others see teaching cursive as a waste of time. James Cunningham, a retired UNC-Chapel Hill professor and former director of literary studies, said teaching manuscript — or print — handwriting make more sense for the modern world.

"The research says that adults who write manuscript, they write just as quickly as adults who write everything in cursive, but it's more legible," Cunningham said. "It's just a simple matter that there aren't any advantages to cursive handwriting."

Hurley disagrees. She said learning cursive helps children with their brain development and motor skills. And she thinks it aids students in reading documents such as the Declaration of Independence or simply letters from an older relative.

State Rep. Chris Malone, one of the bill's sponsors, said teaching cursive makes students more well-rounded, both in terms of disciplining them to learn it and in helping them express their creative side.
"It lends to our humanity to know cursive," said Malone, a Wake Forest Republican who was a Wake County school board member until January.

Traditionalists have bemoaned how cursive has been getting less attention in North Carolina public schools for years, even though it was officially part of the curriculum in grades 3 through 5.

But this school year, cursive supporters became more upset when North Carolina became one of 45 states to implement the "Common Core" standards in language arts and mathematics. Common Core — aimed at providing uniformity in what's being taught in classrooms nationally — doesn't mention cursive.

The elimination of cursive as a part of North Carolina's curriculum made the front page of The Wall Street Journal last month.

Maria Pitre-Martin, director of K-12 curriculum and technology for the state Department of Public Instruction, said Common Core doesn't explicitly prevent schools from teaching cursive. But she said the state doesn't know how many school districts still teach the skill.

The Winston-Salem Journal reported in December that the Winston-Salem/Forsyth County school system has no written policy requiring cursive instruction, according to Jane Costello, the school system's program manager for English and language instruction in K-12. Some teachers instruct children in cursive and some don't.

The backlash over the lack of cursive in Common Core has resulted in California, Georgia and Massachusetts reinstituting cursive as a requirement. Such legislation is being considered in Indiana and Idaho.

Hurley's bill, which would go into effect next fall if approved, says that public schools should be required "to provide instruction in cursive writing so that students create readable documents through legible cursive handwriting by the end of fifth grade."

"It's not going to be inappropriate for students to learn something we learned, and be able to stay connected with their grandparents," Hurley said, adding that she became interested in writing the bill after noticing that all the letters she got from children were written in manuscript.

But Cunningham, the retired professor, said lawmakers should be "spending their time on something that really matters" instead of requiring cursive.

"I think manuscript handwriting is superior as a system for teaching children because then the letters they write look more like letters in books that they learn to read," he said. "If you pick up a book to try to read it, it is almost never written in anything vaguely similar to cursive handwriting."
I found this article to be very interesting. Sam was taught cursive (though it wasn't called "cursive" in school, it was "handwriting.") and so was Cade. Sam's cursive is teeny tiny and barely legible. I wish he'd print more so I could read it easier! Cade rarely writes in cursive. My own handwriting, including my signature, is a combination of cursive and printed letters. Before reading the article I agreed with Cunningham. I don't think there is any real merit in teaching cursive writing. I disagree with Malone in that I don't think knowing cursive writing "lends to our humanity," but I do understand the importance of reading historical documents.
Still, I'm not sold on this bill. What do you think?