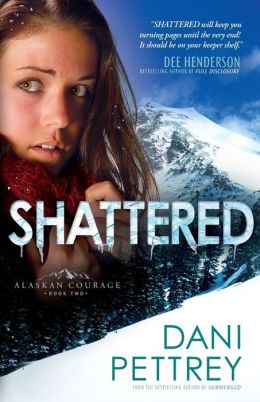 This was one of two books I needed to
review
for Bethany House Publishers.
Before I even cracked the spine, there were three things that immediately caught my attention. The first was the title. It's embossed, so I spent a good 30 seconds tracing my finger over the indented lettering. The second thing that caught my eye was
the "Alaskan Courage Book Two" insignia. Not having read Book One, I was a bit worried. And the third thing was Dee Henderson's quote, "
Shattered
will keep you turning pages until the very end! It should be on your keeper shelf." Considering these 3 things, I went into this book expecting big things.
Shattered
is really a love story wrapped around a murder investigation. Sheriff Landon Grainger has been family friend since high school. He's grown up around Piper McKenna and protected her like a little sister. Last summer his feelings became confusing. Does he love Piper? If he loves Piper would she look at him as more than a surrogate brother? Piper's brother, Reef, returns home for a snowsport competition and is subsequently arrested for the murder of his ex-girlfriend (ex-fling, ex-friend with benefits?). This ultimately throws Landon and Piper on opposite sides. It's only when Landon requests a leave of absence, to protect Piper who is injuried while trying to investigate on her own, do they work together and work out their feelings for each other.
The McKennas are a very big family. So much so that I had to refer back to previous pages to keep folks straight. And I'm still not sure where Jake fits. My guess is I'd know a bit more had I read the first book.
I found Landon's character to be most interesting. His conflict and inner struggle, most of it stemming from a painful past, was nicely fleshed out. Piper's character was the opposite. She was uninteresting, boring and annoying. Someone broke into your house, drugged your dog, ran you off the road and still you are determined to investigate by yourself.
I enjoyed that the investigation took Landon and, ultimately, all the McKennas to Canada and California. The gang lead was tiresome. (Isn't it always gang related?) It wasn't until the investigation took a turn into biotechs and microchips did I start really turning the pages. Until the end, which was rather contrived.
While this was an enjoyable book, I was able to put it down. I also respectfully disagree with Ms. Henderson. It's not a shelf keeper.
Disclosure: This book was provided to me free of charge through Bethany House Publishers for the sole purpose of an honest review. All thoughts, comments, and ratings are my own.